HotEyeŽ
Technology that sees hot objects
OG Technologies, Inc. (OGT) has invented HotEyeŽ, a breakthrough technology in non-contact sensing1. HotEyeŽ is a proprietary imager, designed for high temperature applications. This technology can capture the image of an object that is as hot as 1,450°C (tested, equivalent to 2,640°F) with the same image quality as if the object were at room temperature. This innovation is based on OGT's expertise in optics, CCD technology, and electronic signal processing. HotEyeŽ can be used in imaging systems for dimensional measurement and surface defect detection at up to 1,450°C.
To date, the technology has been applied to applications in the hot rolled long product mills as HotEyeŽ RSB Systems.
<![if !vml]>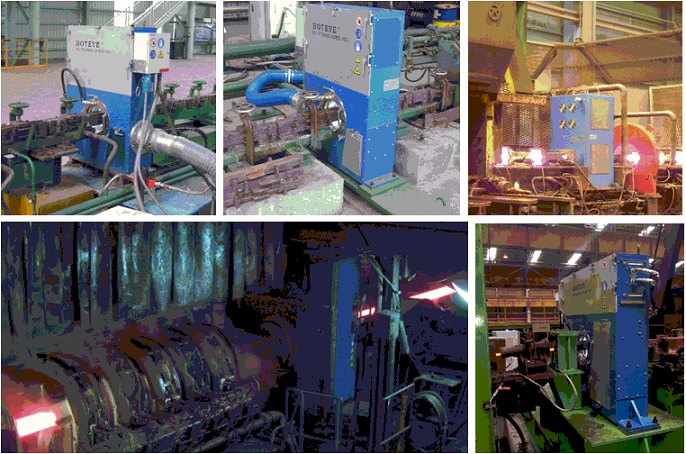 <![endif]>
The HotEyeŽ Rolled Steel Bar Systems are designed for both the bar and rod mills to address the ever-lasting surface defect problems. The applications are now extended into the rail/shape mills and seamless tube mills. Successful tests and verifications have been documented in detecting both transverse and longitudinal defects, such as seams, checking marks, tears, slivers, overfills, and so forth. Details can be found in the HotEyeŽ RSB Brochure (PDF format) and the 2004 AIST Technical Conference Paper (PDF format). Benefits have been reported with reduced internal rejects and improved customer satisfaction, resulting in quick return on investment.
Integrating a HotEyeŽ RSB system into a rolling mill is simple. HotEyeŽ RSB comes in as three modules. The sensor module is to be installed in line, with the bar path centerline aligned. The computing module is to be installed on the mill floor. A cable bundle will be supplied to link the two modules. A cooling module is equipped to ensure the system operation in harsh mill environment. The HotEyeŽ RSB is linked to the rolling mill through one relay signal connection and one TCP/IP connection, in addition to all other required utilities. HotEyeŽ data will be available to any offices and pulpits that have PCs linked to the mill network.
Products installed in North and South America, China, Europe, India, Japan, and Korea.
1 Patents Awarded in US and other major steel producing countries.


OG TECHNOLOGIES, INC.
Ann Arbor, Michigan
(734) 973-7500
Write to us at sales@ogtechnologies.com for further information.
Copyright 1998-2017 OG Technologies, Inc.
All Rights Reserved.
No part of this publication may be duplicated or redistributed without prior consent from the publishers.
OG Technologies, Inc., 4480 Varsity Drive, Suite G, Ann Arbor, MI 48108